During the 90's I teamed up with talented keyboard player/songwriter Guy Phethean and formed the production team 'Jupiter'.  We operated out of our west London recording studio and are both Sagittarians, so with our ruling planet being Jupiter, the name seemed quite perfect.
It wasn't long before we were doing songwriting, production, mixing, remixing, etc with/for DJ's such as 'Ariel', and artists including Kim Appleby, Tony Di Bart, Livin Joy, Kim Wilde, Peter Andre, and Worlds Apart amongst others.  Clients included major labels like Sony New York, EMI, Universal and independents like Mushroom Records, Cleveland City Records, Avex Records and Activ amongst others.
Our production of 'Ocean Blue', a co-written song with Cal Cooper of boy band Worlds Apart, made it onto their second album 'Don't Change' which was also featured on their 'live' tour of France DVD (in France they had two no'1 singles).
Unfortunately we didn't quite achieve the same level of success with Jupiter as I did with Kajagoogoo or Limahl, but we definitely did some quality work.  As I know all too well, commercial and mainstream success is influenced by many other outside factors.
We had other guises too……with record company man Pete Lyons we called ourselves Barb and released a white label of a crackin dance toon called 'Exploration'.  With Brighton DJ Mark Dukes we became Club Crew, and released two white labels entitled 'Kindred Spirit' & 'Absolution' which generated telephone calls from some big DJ's requesting copies to spin at clubs,.  'Kindred Spirit' was also played on London's dance station Kiss FM by Graham Gold.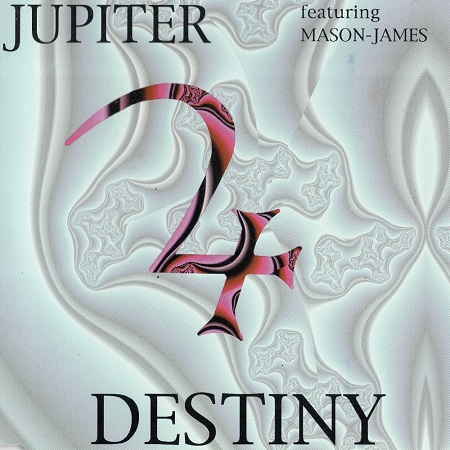 Along this road (in 1994,) we eventually wrote and produced our very own Jupiter track entitled 'Destiny' which was released by independent dance label Pigeon Pie Records; featuring the awesome vocal talents of Sylvia Mason James who is a very respected singer on the London circuit, having worked extensively with the Pet Shop Boys amongst others (for this recording she decided to drop 'Sylvia' and became simply 'Mason James'),  Although a hit record was not forthcoming for us this time, we did get some very strong club/DJ reactions and regional radio airplay……I still really like the sound of the recording today.
I have more plans for this section of the website and eventually want to feature all our Jupiter projects because we worked so hard on these recordings, anyway have a listen and see what you think, it's quite 90's……when we didn't seem to have pop stars…it was a lot of dance music and DJ's became the new thing, remember ?